睡袋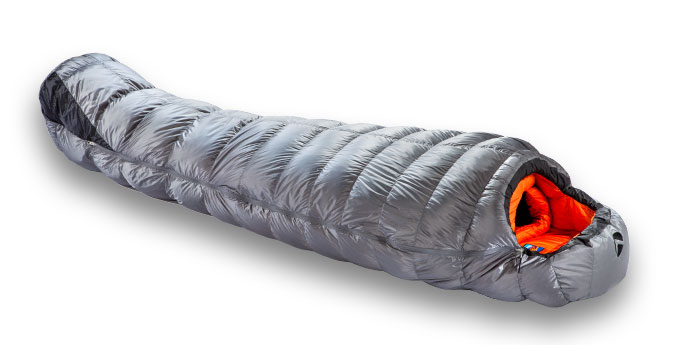 The great outdoors is not a 5 star hotel with a nice warm tub before going to bed… But a good nights sleep is within your grasp.
The Chill Out 850 RDS is a 4 season winter bag, designed to keep you warm and at the same time offering you exceptional comfort to just Chill Out in with a bit of wild weed and a book while you are waiting for the weather to settle down.
The concept of the Chill Out 850 RDS is a mixture of our high tech tubular construction assembled using pre-cut anatomical baffles, a well proven technology from our goose down expedition sleeping bag line.
To make this technique available to people not headed up K2 or Everest, we have filled this high tech shell, with our our new RDS white European 90/10 800Cuin/US goose down.
RDS Label guarantee that DOWN used for this product is animal abuse free and has been managed in accordance with the "Responsible Down Standard (RDS)" for every process from farming and plunking to processing and ditribution.
EN ISO 23537-1:2016 test results PDF
Extreme :

-40°F

/

-40°C

Limit of comfort :

0°F

/

-18°C

Comfort :

13°F

/

-11°C

憑藉著超過30年生產及供應羽絨製品的經驗,Valandré認為 -20°C (-4°F) 是舒適度上限。
外層 :
100% 聚酰胺 尼龙 6 Micro-防撕裂 40克/平方米 防潑水處理
Asahi-KASEI
內層布料為 :
100% 聚酰胺 尼龙 6-6 40克/平方米 防潑水處理
Asahi-KASEI
隔層 :

18個隔層(頂部和底部分開),使用Valandré第二代管狀技術,預切H箱牆 (H box wall)和人體工學立襯設計。

羽毛品質 :
RDS certified 90/10 White Goose Down


内部填充的欧洲白鹅绒经羽绒责任标准 (RDS) 认证,绒羽比高达 90/10,美标和欧标蓬松度分别可达 800+和 750+cuin。拥有持久的高品质和卓越的防潮性。
✔

METRIC

✔

IMPERIAL
S
M
L
外部长度
200cm 78.7in
215cm 84.6in
230cm 90.6in
内部长度
170cm 66.9in
185cm 72.8in
200cm 78.7in
肩膀
159cm 62.6in
163cm 64.2in
174cm 68.5in
臀圍
135cm 53.1in
139cm 54.7in
150cm 59.1in
腳部
97cm 38.2in
101cm 39.8in
111cm 43.7in
Compressed Volume

10.5 L

640 in3

11.0 L

671 in3

11.5 L

701 in3
總重
1.28kg 2lb 13oz
1.35kg 2lb 15oz
1.45kg 3lb 3oz
羽毛填充量
811g 1lb 12oz
850g 1lb 13oz
889g 1lb 15oz